Loughborough based Giant ambassador Tom Davis is one of the rising stars in long-distance triathlon, with some fantastic results already in his short career. He frequently gets asked whether using a lightweight or aero bike is the best option for their race, especially on hilly courses. Below, he goes through the thought process and offers advice for any athletes in a similar situation. 
The age-old question of whether lightweight outweighs aero divides opinion in cycling, and long-distance triathlon racing is no different.
If you're heading off to a lumpy triathlon and find yourself wondering which bike would be best, here are a few tips that I hope will make this decision a bit easier.
I will start by saying that there's probably only a handful of races where a lightweight road bike would be beneficial over the aero savings of a TT bike in a triathlon. However, what bike you should use comes down to a lot more than theoretical speed savings.
Speed or Enjoyment
The first thing you should ask yourself is 'what are my goals for this race?'
Are you looking to race for your best time or enjoy the experience? If it's the latter, take the bike that you're most comfortable on, so you can enjoy the day! If it's about racing and going as fast as possible, then the following points will need more consideration.
Course Profile
This may be the most obvious one, but a few courses are beneficial to ride a lightweight bike over an aero TT bike. Although few and far between, something like Alp d'Huez is a prime example.
Quite simply, it's a hill climb on the bike, and there would be next to no aero benefit - as the speeds aren't high enough; and there isn't sufficient time to get into position on the bars to utilise the aerodynamic benefits.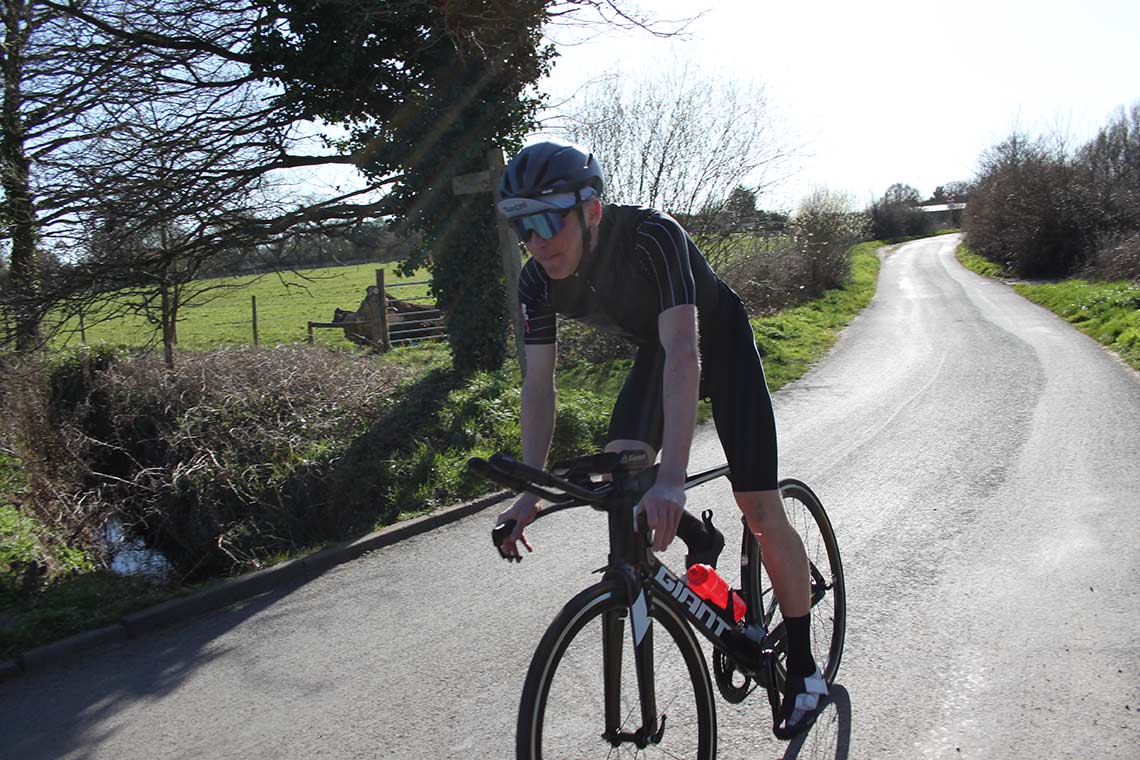 In fact, you'd probably be paying the price from a weight perspective. From a purely theoretical standpoint, most other courses will almost always be faster to ride a TT bike. Aerodynamics plays such a massive part that if you can, an aero TT bike, like the Trinity and deep-section wheels & rear disc, is always the fastest option in 99% of the cases.
If you're racing a very hilly course and you aren't quite sure either way, this would be a great time to get a few rides of the course in beforehand to get a feel for the time difference on either bike. You can even test yourself on both bikes to make sure you are making the best possible decision for the upcoming race.
Confidence In The Aero Bars
This is a big one. No matter how fast the bike, if you're not confident riding in the TT bars on the descents, or technical sections, then you'd be just as well off taking the road bike. The speed you'd lose sitting on the bullhorns negates most of the benefits of the TT.
Obviously this can be improved, both by knowing the course with route reccies etc, or by working on those technical sections if you know you've got a course that demands that.
Technical Ability
Linking in with the previous point, if you can use the corners to your advantage, it's a great way to take time out of competitors and with practice, this can be very similar, no matter what sort of bike you're riding.
However, this does take practice, and if it's something that is unfamiliar or your skill isn't quite that high, there could be a good case for taking the road bike.
Comfort Climbing
There's no question that climbing on a road bike feels more comfortable for most. However, give it time, and a TT bike can climb just as well as a lightweight road bike.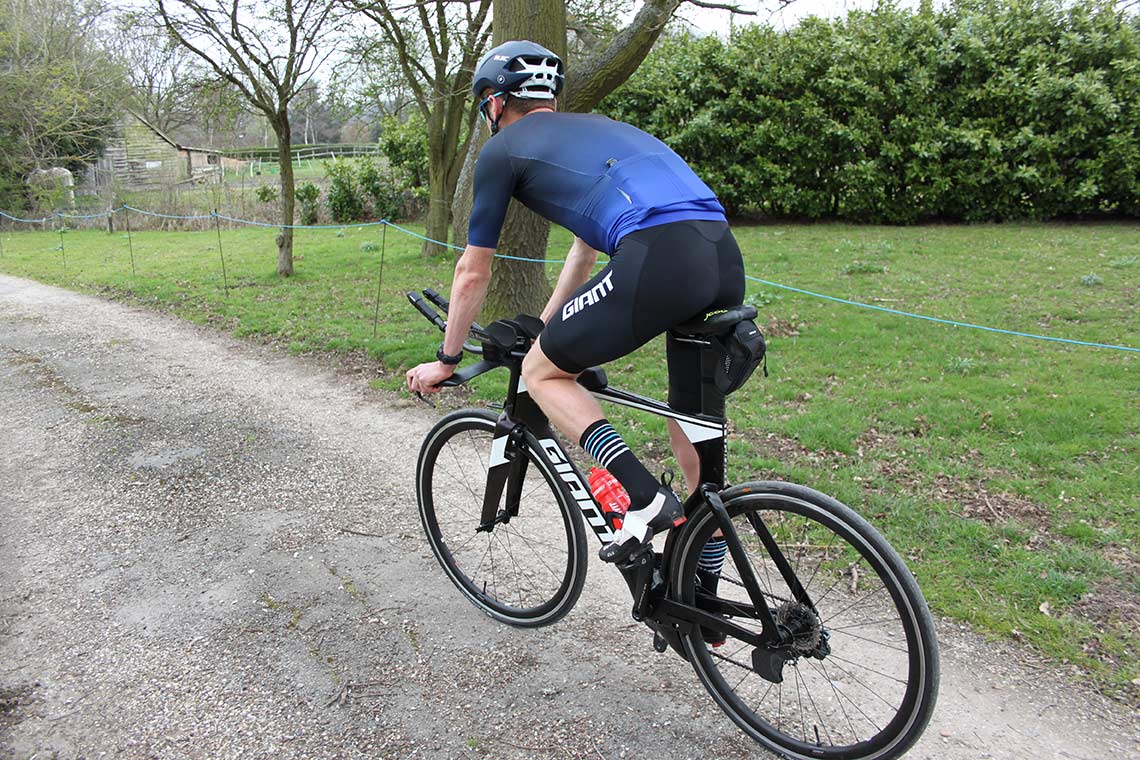 However, it is all about personal preference. A lot depends on the rest of the course! What are the sections like between the climbs? Will you be losing a lot of time by not being as aero, outside of the climbs? How steep are the climbs? Aero plays a part at pretty low speeds, so unless the inclines get properly steep and challenging, there would still be a benefit to taking a TT bike.
Wheel Choice
Once you've decided on the bike, the next choice is wheels. As I've mentioned previously, there are very few courses that contain enough elevation for lightweight to be of benefit.
In short, I've never changed from a disc & deep front wheel setup. The weight saving won't outweigh the benefits, so I advise you to go for the most aero setup you can!
Bit Of Both?
So, what's the next best option if the Trinity doesn't sound right for you? Quite simply, a Propel (or an aero road bike) with clip-on aero bars!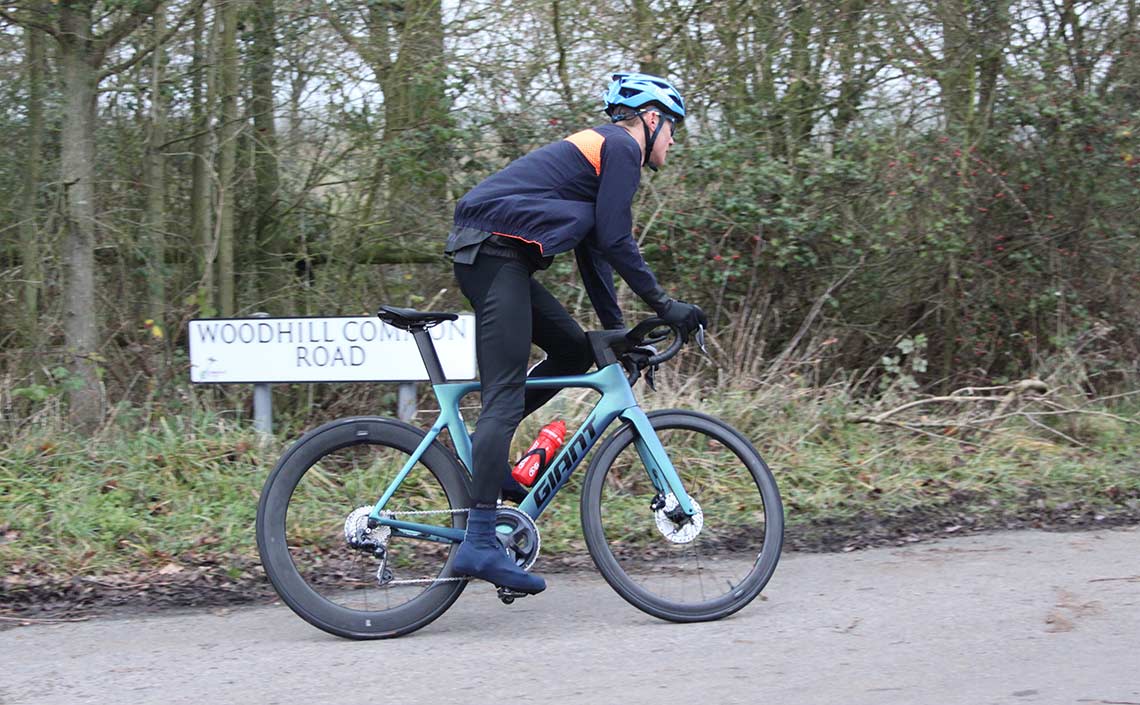 It still has many aero benefits, but with the added comfort and geometry for climbing and cornering, plus it's slightly lighter to. Put a deep section wheelset onto the Propel, and you will have a great alternative to the Trinity that will be nearly as fast!
Hopefully, these points can help you decide which bike you should invest in for your goal race, be that this season or in 2022.
Keep up-to-date with all the latest Giant news by following us on Instagram @GiantUK, like us on Facebook or follow us on Twitter @GiantUK.